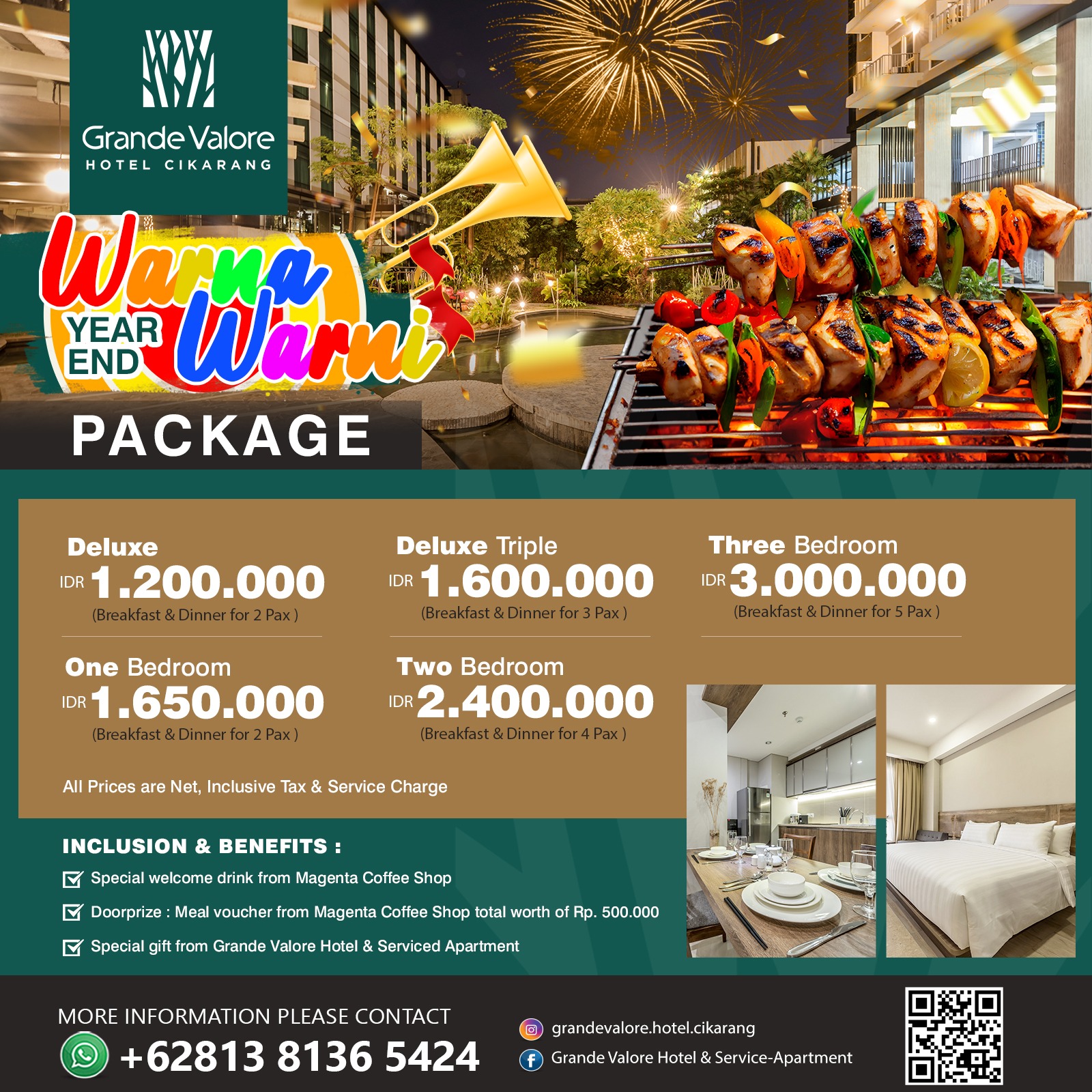 Embark on a Grand Year-End Escape: Unveiling the Warna Warni Year-end Package at Grande Valore Hotel
As the year draws to a close, it's time to indulge in a grand celebration and bid farewell to the past while welcoming new beginnings. Look no further than Grande Valore Hotel, where we've curated an exceptional Warna Warni Year-End Package to ensure you conclude the year on a high note. Elevate your holiday experience with a delightful stay, delectable dinner, and a breakfast that promises to kickstart your mornings with joy.
Package Inclusions:
1. Luxurious Accommodation:
– Immerse yourself in opulence with a one-night stay in our exquisite rooms. Whether you choose a deluxe room or opt for a suite, comfort and elegance await.
2. Dinner Experience:
– Indulge your taste buds with a culinary journey at our renowned on-site restaurant. Our chefs have crafted a special year-end menu, featuring a delightful fusion of flavors that will tantalize your palate.
3. New Year's Eve Celebration:
– Join us in the festive atmosphere as we host a New Year's Eve celebration like no other. Count down to midnight with music, entertainment, to welcome the new year.
4. Scrumptious Breakfast Spread:
– Wake up to a delectable breakfast spread that caters to every taste. From continental delights to local favorites, our breakfast menu is designed to energize you for a day of relaxation and exploration.
Why Choose Grande Valore Hotel for Your Year-End Retreat?
1. Central Location:
– Conveniently located in Cikarang, Bekasi, Grande Valore Hotel provides easy access to local attractions, ensuring your year-end celebration is filled with exploration and discovery.
2. Exceptional Service:
– Our dedicated staff is committed to making your stay memorable. From seamless check-in to personalized assistance, we go above and beyond to cater to your needs.
3. Modern Amenities:
– Enjoy state-of-the-art facilities, including a fitness center, Sky Pool, and more. Our hotel is designed to offer you a perfect blend of luxury and comfort with a resort style atmosphere.
Embrace the joy of the season with Grande Valore Hotel's Year-End Package. Book now and immerse yourself in a world of luxury, celebration, and culinary delights. Contact us at 0813-8136-5424 (click to chat) to secure your reservation and make this year-end celebration one to remember.
Here's to a Grand Year-End Escape at Grande Valore Hotel!
Terms and conditions apply. Prices may vary based on specific requirements and additional services.